blur
I've seen Blur twice in my life. The first time was great, one of the best concerts I've ever seen. I had the best time, met Graham (which at 19 years old nearly killed me), and nearly mowed Alex down on the side of a highway. I was on the Hoax mailing list at the time and drove from Dallas to Atlanta with Susan and Jacqui, who I had never met in person before. It was probably a good thing we all got along, otherwise the drive would have killed us.
The weekend was nice, we got to sightsee around Atlanta a little bit and eat at a couple of nice places. On Sunday night, we were really tired and went to bed early, but got up an hour later to find something to eat. All three of us hopped in my Saturn and got on the highway and somehow ended up in Buckhead, pretty far from our hotel and at the time had no idea where the hell we were. We were listening to Blur at the time, cranked pretty loudly, sunroof open, and screaming "Song 2" as we were driving. I decided to exit the highway and as I was approaching a stoplight on the service road, I had to slam on my brakes to let some pedestrians cross the intersection. The next thing I knew I was staring right at Alex James walking in front of my car, and I kind of let out a gutteral moan. Jacqui started screaming, which in turn led to me screaming, which in turn led to Susan screaming at us not to scream. I stalled my car and let the rest of them pass, seeing Alex smugly grin back at us, Susan seething in the back. Dave stuck his head in my window like a dinosaur in Jurassic Park, scaring me, paralyzing us even more, and I was doing everything I could to stop screaming. Susan saw Graham run behind the car and into the hotel, avoiding the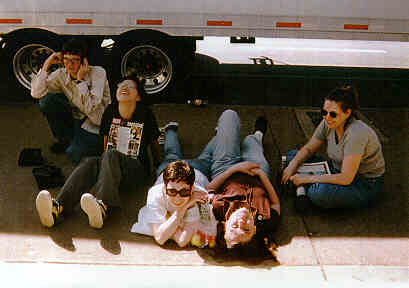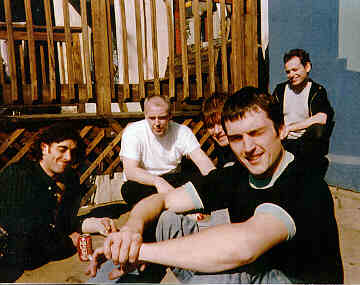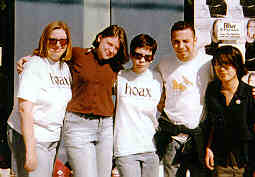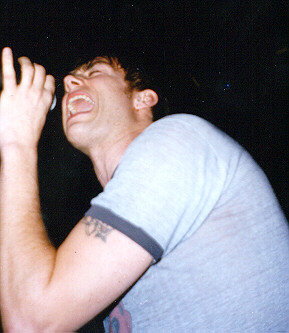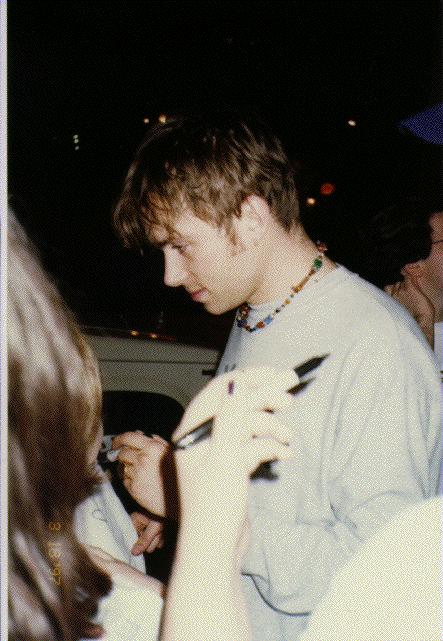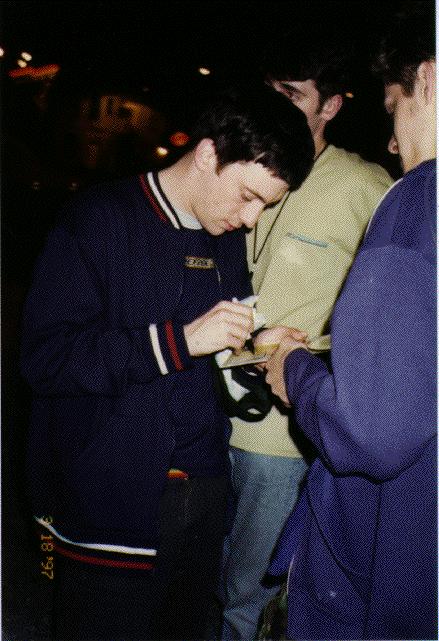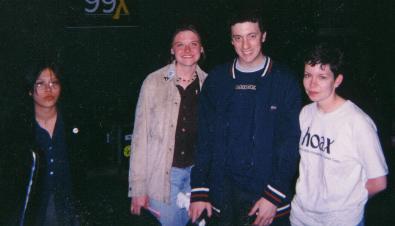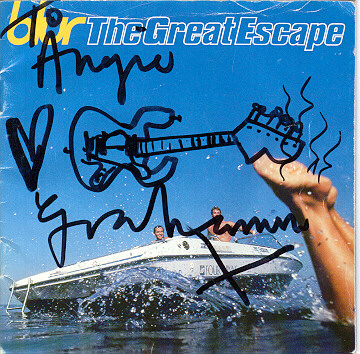 ---
The trip to Atlanta rocked! Hanging with fellow Hoaxers was great, and everything about the trip was fun. On the drive out there (which ended up taking about 12 hours, I think) we listened to Blur for 9 hours straight without repeating anything, and then went on to listen to their girlfriends' bands (Elastica, Huggy Bear), and anything associated with Blur. The next day was long- we went "blurspotting" but had no luck, so we went back to the hotel early and watched The Simpsons and King of the Hill. For some reason, we got up and left for dinner around 10 pm, and of course we got lost somewhere in Atlanta. As we approached an intersection, a group of pedestrians crossed in front of us, and all but one went behind us. The one in front of us sort of pranced, and I thought to myself that he looked like Alex. Then he turned his face forward, and IT WAS!! Then I looked to my left and there was Dave smiling at us. We started screaming, and of course I'm stupid enough to have the windows rolled down. It was so embarrassing! I lost almost complete control of my legs, which really sucked considering I was driving a standard.
On Monday, St. Patrick's Day, we got to the venue at 9:40 am, and camped in front of it. After all, we drove 800 miles, and were going to be first. The day was long, I got sunburned (as you can see in that hideous picture of me, but it was cool to see them set up everything. I got to meet Morphine, who was staying at our hotel. Peter, our stylin' little bellhop, got their autograph. He rocked, indeed.
Most of the songs they played were from "Blur" and "Modern Life is Rubbish", though they played a few others. Damon held my hand whilst singing "Death of A Party", which of course, I loved. They ended with "Sing", which left us all sort of quiet, IMO. Afterwards, Susan, Jacqui and I got to meet Graham which is something I will never ever forget.
I'm "Coping" with another "Advert" for Geocities
Back