Poor Erin. She just left and looked so frazzled, it broke my heart.

You see, tonight we all planned to get gussied up to head to the Wreck Room to see Chomsky. Erin and Amanda both got here around 10, so we took two cars to Ft. Worth. Deidre, David, and Amanda in one, and Erin and I in the other. We got there a couple of songs into Chomsky's set, had a Shiner, sat next to a really cool nerdy guy, and had a great time. Chomsky are my favorite local band. Easily. They know how to have fun and play pop tunes at the same time. And tonight was special because Glen was drinking Red Bull on stage, and if you've ever seen Chomsky, you'll know that's a dangerous combination.

So we're all bouncing in our seats, happy, singing along, enjoying the night. Centromatic set up and man, what a buzzkill. I threw some Roxy Music and Jon Spencer on the jukebox and made "nubby" jokes with Amanda, had an encounter with a real cowboy (!), and then decided that I really hated slow-core and I had better get out of the same room as Centromatic or I'd go postal. So Amanda, Erin, and I all piled into Erin's car (which is two months old) to head home early and bake cookies and generally be good girls. The plan was to wake up early in the morning and go to church with Erin, because I'd like to start going to church again and I like her church, then I was going to meet Angie and go home to Whitesboro to have a birthday lunch for my dad. Sounds good, right?

Well, it sounded good until we got to the intersection of Weatherford and Houston in downtown Ft. Worth. I heard an "oh shit" and next thing I knew, someone was hitting us. Basically, we were going the correct way on a one-way street, and the other car wasn't. They hit Erin's door head on. Our car wouldn't move. She somehow steered it closer to the curb and we waited for the girls who were driving the other car to approach.

a) One was from Houston. Which is normally enough to damn a person for life anyways.
b) They were both wearing hoochie-mama clothing courtesy of TJ Maxx. Lots of lavender eye-makeup.
c) They were loud and obnoxious. One kept hugging Erin to make sure she was alright.

When the police finally arrived, they were cool. We were making jokes about men with one leg and the short retarted kids bus. They actually were laughing pretty hard. Two of the cops gave Amanda and I a ride back to the Wreck Room to see if we could find Deidre and David (hopefully they hadn't left) and it was my first (and hopefully only) ride in the back of a squad car. They ran a stoplight and made jokes about how the back was contaminated and we probably wanted to wash our hands before we ate. I ran inside but couldn't find Deidre so I went straight to John and Matt and asked for help while Amanda went to Glen (who was really concerned and was about to help) but after that we found Deidre, who was stuck there because Amanda had her car keys in her purse the entire time. Luck!!

So after playing "wait on the corner" for 35 minutes or so, we all finally regrouped and got home. Erin's car is totalled so we all had to cram into Deidre's car and tried to not to cry by just making stupid jokes the whole way home. Just a mental note: Morissey's voice is not a great thing to hear after experiencing trauma.

Speaking of trauma, we were doomed from the beginning of the night. We went to see Cen-TRAUMATIC at the WRECK Room and were listening to VOODOO Chile on the radio when it happened. Perfect equation for instantaneous death, huh?

To top the whole thing off, the cats shredded my hot pink boa and when I walked in, I just saw this trail of hot pink feathers from my room to the dining room. I nearly had a breakdown.

My head hurts, my back hurts, my neck REALLY hurts. This sucks. I am going to bed soon to alleviate some of my discomfort and hopefully it won't be as bad as I'm thinking it will be in the morning.

But other than that, the weekend has been just dandy. Last night I went with Erin to the big DaisyRadio birthday bash. It was decorated with loads of balloons and pretty lights, they gave out free cake and stickers, and I ran into a couple of friends. However, the crowd was waaaay too big and we left after seeing Legendary Crystal Chandelier (who are too amazing for me to even go INTO right now, because there's no way I can do them justice, but like most Dallasites I HEART PETER SCHMIDT!), Captain Audio, and the beginning of Tripping Daisy (who I love more and more everytime I see them -- they have the maths of music down to such a distinct art -- and it goes right over the head of most people who like it...I don't get it), and headed straight for Waffle House for a little comfort food. Before I die, I want my last meal to be a plate of Country Ham, grits, scrambled eggs, hash browns smothered and covered, and raisin toast with apple butter with a cup of coffee on the side. The sole reason I will never leave the South. I could not go without that meal for too long. Perfect comfort food.

This morning I scanned most of my pictures from the big Marvelous 3/Self weekend, so expect to see those up pretty soon. They're pretty cute.

Well, it's 3 am and I should get to bed, because I have to call Whitesboro in the morning and tell my family that I got in a wreck. Wheee. I'm sure mom is going to freak out but we'll deal with that when it happens.
Listening To
Beyond the Bridges - Sloan.
It honestly gets better the more I listen to it. Perfect for my moods lately. I <3 Andrew. And how does Jay write such PERFECT songs!?
The Katies - The Katies. Anyone with a soul needs to go out and find this because it's just so sweet.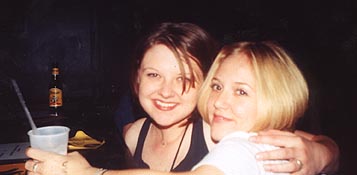 Me and Deidre at the Self show a couple of weeks ago. Yay.