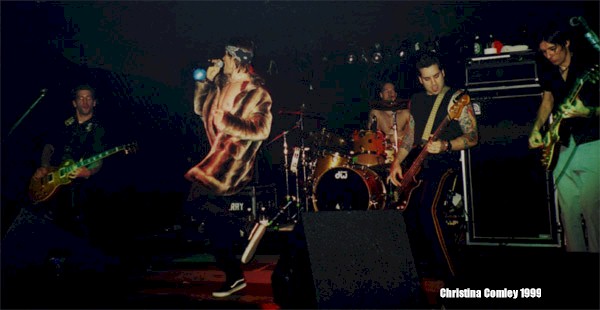 Okay, so my indie cred is gone, but I really like this band.
You may ask, "Chrissy, what on earth does a sensible minded girl like yourself see in a band that sings about cocaine whose fanbase is full of metal rap kids and old men in mullets? "
And to that, I can reply. Trust me.
First off, I like rock. And not just piddly weenie rock, but ROCK. I like to rock out. I like to find good fun music to rock out to. And I think Buckcherry have come through for me on this one.
Secondly, these are the sweetest guys on the face of the earth. Really. My best friend, Amanda, and I heard about them initially from a friend of ours, Tommy from Trinket, while we were in Atlanta at the beginning of 1999. And that weekend after we got home, we found out that the Buck were playing a teeny tiny little club here in Dallas. So the two of us got dolled up and expected to get spit on or beat up. But we were the only two people there to see them and they were the sweetest most grateful guys towards us.
And the rest is history. We've suffered through many a long highway to see them in other cities. We've had to fly stand-by in strange cities. We've been sunburned, frozen, hungover, heartbroken, injured ... everything sucky over the course of a year that could possibly happen. They've helped this year become something special for me. They treat us like their little princesses whenever we're around, and for that I will continue to love them, even though they go on bad over-sponsored tours with Lenny Kravitz.
And they do a really mean Dramarama cover.
Shows I've seen this year:
Dallas, Galaxy Club, February 12, 1999
Houston, Instant Karma, February 13, 1999
Oklahoma City, Boar's Head, February 16, 1999
Atlanta Music Midtown, April 1, 1999
Atlanta, Tabernacle, April 1, 1999
Houston, May 6, 1999
Dallas, Trees, May 7, 1999
Oklahoma City, Boar's Head, May 1999
Austin, Stubbs BBQ, July 2, 1999
Dallas, Deep Ellum Live, July 4, 1999
Dallas, Deep Ellum Live, November 13, 1999

Instant Karma. Houston, TX. February 13, 1999.
Josh and Yogi (yes, it's so rock and roll it hurts!)
Keith
Keith, Josh, Yogi, and J.B.
Keith, J.B., and Devon
Josh's back, Devon, and J.B.
Keith and Yogi
Keith, Josh, and Yogi
Keith, J.B., and Josh in fur coat
Keith, Yogi, and Josh
Keith and Yogi
Yogi