Previous
Next
Tasteless Bracelets
Elitist Slampiece Hysteria
Join my notify list.
e-me
I can't get over how much a band breaking up can really ruin my day. Or days in a really successive sort of order. I know Amanda understands this, as 60ft Dolls have sort of just disintegrated into the pieces of Welsh sand/fecal matter from which they came from.

Tonight I'd just like to say thank you to Kula Shaker. I am horribly sad that I'll never get to sit through another incense-scented set. And for the first time in two years, I'm actually glad that I missed Radiohead's set at Glastonbury to be in the front row for the big K's Second Stage performance. I'm glad that I took advantage of the fact that I had a friend living in Arizona to see them in another city. I'm glad I went with David and Pat to Scotland to see them. I'm glad that I sat outside of Deep Ellum Live that fateful day in Feb 1997 to meet them and get autographs and sneak into soundcheck. Sure, they're not met with a lot of respect from people because they seem so hokey with their dadrock-religious sound, but I make no apologies for liking it. I love it. I always have. Thank you Kula Shaker for making a lot of my moments a lot happier.

I first heard them after I graduated from high school. I think it was on the Adventure Club, and I was pretty psyched about finally hearing them after reading about them in the import magazines I was starting to read. I recorded "Tattva" onto a tape and bought the CMJ shortly thereafter, nearly wearing it out until 'K' finally came out. I remember arguing with a girl at the counter of the CD store when she said that Kula Shaker didn't exist. Luckily, my eye caught the yellow side of the case in a big stack of stuff they still had to stock. So I was happy. I think I even took the day off from work so I could sit at home and listen to it. I finally got to see them a few months later at Deep Ellum Live, which is the same show that I met Amanda at. I got there super early and was hanging out with some weird kids from Oklahoma, and recognized Paul when he was walking down the street. Noone else did, so he and I got to chat for a few minutes and that was all it took for me to lose my heart to an autistic drummer. Those blue eyes, the cute little sideburns (I'm SUCH a sucker for cute sideburns!) and that West Country accent just did it in for me. And he had nice hands. I'm one of those girls that pays attention to hands, and his nails weren't chewed down to the quick, his fingers weren't too chubby, and he didn't look like he had a paw full of nubs. Lovely. So he signed stuff for me and took pictures with me and I was on cloud nine.

The show went fabulously. So wonderful that at work within the next couple of weeks, I had myself a plane ticket booked to see them in Phoenix, AZ in early April. I was going to meet up with Leigh-Anne again after not seeing each other for a good six months, and we were going to go to the show and live it up supremely. Somehow, we met the promoter and he guestlisted us and had me make the backstage armbands and we both sat like good little girls through soundcheck. I couldn't have been any giddier. We spoke with them quite a bit and afterwards got to hang in the beloved backstage dressing room with them, where I pelted Paul across the chest for lying about something or another. And they complimented me on my George Harrison badge. Cliched? of course! But who cares? It was great. Oh, and during the show, Crispian dedicated "Into the Deep" to me. How much more star-struck could a 19 year old girl get?? We got to walk out with the band to the van too like the beautiful ones and I had little indie lasses yelling mean things at me. Nyah nyah. Talk about getting hooked on a feeling (thank you Boston) because I live for that feeling even to this day. Having fun at other people's misfortunate jealousy? Yes, I'm a bitch. Tsk tsk.

Okay, then I went to England that summer and experienced the drudgery that was Glastonbury. When you hear someone talk about the mud, understand that they're not just exaggerated war stories. That stuff is seriously nasty! And it was sooo deep. I remember trying just to walk through it and seeing that moron from Geneva flail his wrists and whining while he was walking nearby, and I had every urge in my body to push him face first into the mud. Alas, I didn't, and I even somehow survived the Chemical Bros. set which was HELL because everyone was really messed up on a countless number of narcotics around me, and I was at the back of the crowd. Somehow, I lighted my tall citronella candle and had the crowd part in front of me like the Red Sea and a real live raverkid jumped in front of me and yelled "It's the magical holy torch of Bozarth!" Erm, sure. And I got to the front. Magical indeed. Thanks Bozarth.

Show was great, even though I was stuck in knee-deep muck. The hike back to the car was hell, but I got to see lots of acts that day and it was great to be in the crowd at Glasto and hear pretty music and see the Tor behind us. Yes, I'm a fruitbat. Big deal.

I then saw them two weeks later at T in the Park in Scotland. I went with David and Jay's mom, Pat (who is easily one of the honest-to-goodness sweetest and funniest women I've ever had the honor to meet). We spent the night in Gretna Green and played all day at the festival. I saw Neil Hannon and Paul Gallagher in the backstage area. And Reef, and Saffron from Republica, and Dodgy, and all of the Charlatans' Rolls Royces lined up. Whee. We hung by the Portakabins all day and got to stand on stage during the show. What a rush. It was one of the nicest days I've ever had.

And that was the last time I saw them. I was at least hoping that with the new album, they'd tour more. But alas, it will never happen. So thanks for the memories and a couple of good albums and even better b-sides. I hope that the other three do very well in whatever they do, and that this isn't the last any of us will ever hear from them. It makes me truly sad to think that that will be the case.
Memory Lane





This was backstage in Phoenix, AZ in Apr 97.
Yes I looked like a gimp, but boy I was happy and just look at Paul. How cute!!


This was a really crappy graphic I made for an old website that I later found on an import double bootleg on Piggy Puss Records. They stole my graphic! And it wasn't even a good one!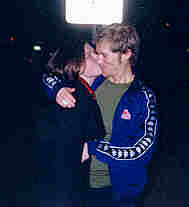 This one's pretty self-explanatory. Every time I pass that sign (in the background) when I'm in Deep Ellum, my heart goes out to Paul, wherever he may be. Pop Star crushes never die. Or I'm just utterly pathetic.




This one was taken backstage at T in the Park in Scotland. From left: Alonza, Me, Jay, David, Pat, Vickie, and Paul sulking in corner.




Alonza and me at our off-location modelling shoot for Adidas. He appreciates the serious tri-stripe action like the best of us do. What a gent.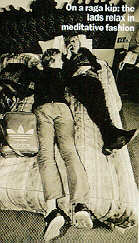 Yum.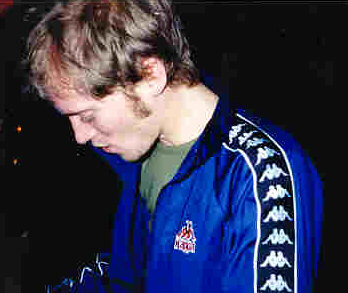 See? What adorable sideburns.